An important aspect of geomechanical analysis and design is the use of structural support to stabilize a soil or rock mass (i.e., restrict displacements in the immediate vicinity of an excavation or slope). 3DEC 5.2 included four reinforcement types:
Local reinforcement at joints (e.g., dowels)
Global reinforcement (e.g., cables)
Beams
Surface Support (e.g., liners; as an added option)
3DEC 7 retains the original local reinforcement at joints. But it now also offers (at no extra cost):
All FLAC3D structural support elements
Hybrid Bolts, which add dowel segments to cable bolts to resist shearing and opening across joints
Hybrid Bolts
3DEC hybrid bolts are a new structural element developed to reproduce both the shear and axial behavior of rock bolts, such as fully grouted rebar, cable bolts, and split sets. Hybrid bolts combine a conventional cable element that models the axial behavior with local shear springs (dowels) at fracture intersections that model the shear resistance induced by the presence of the bolt system (steel and grout). Both elements can yield and rupture, reproducing the three stages of load response (elastic, yield, and plastic stages) typically observed in laboratory tests.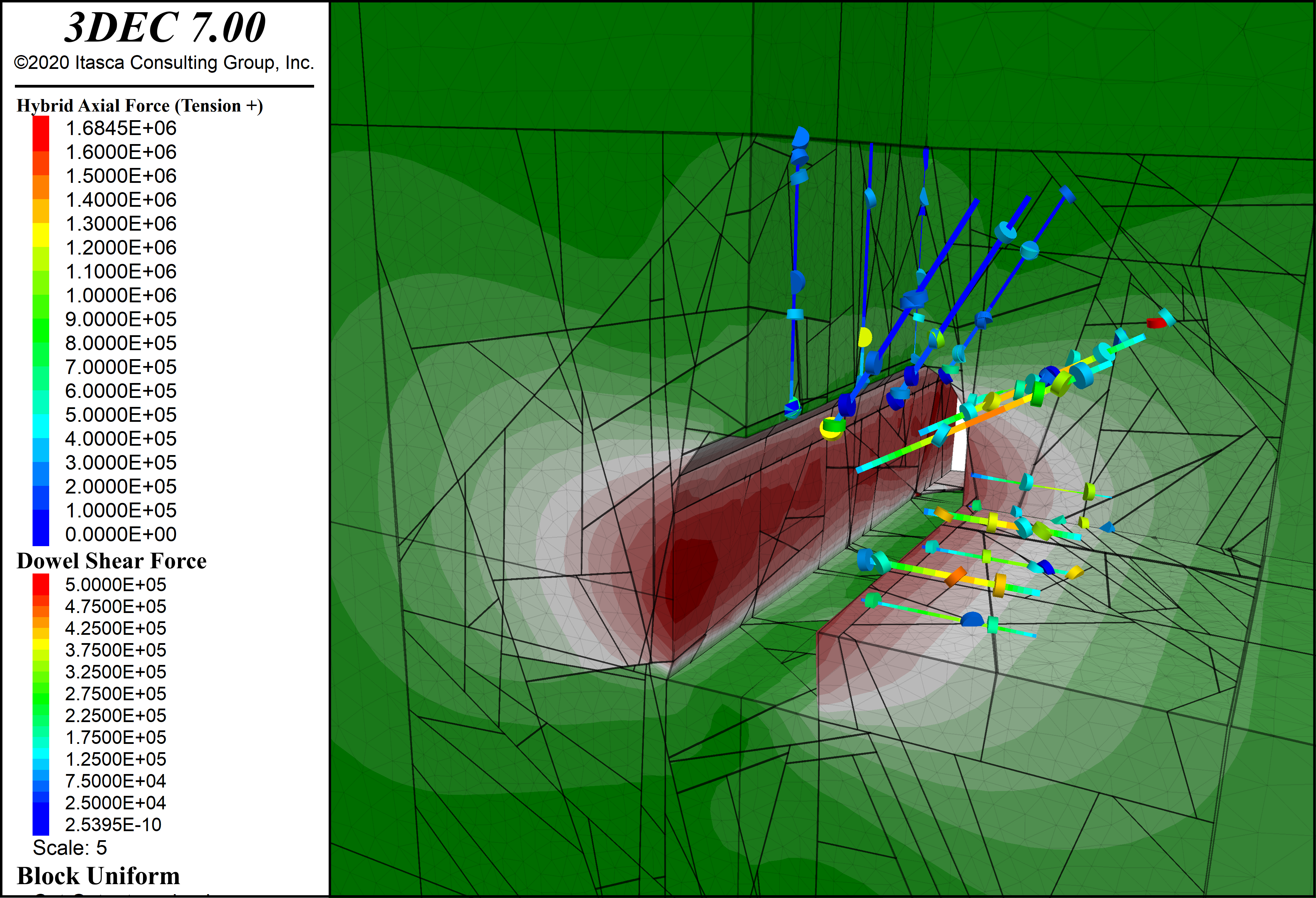 The hybrid bolt model properties are typically calibrated through simple shear and pullout tests on bolts perpendicular to the joint.
To assist with calibration, a calibration tool for hybrid bolts, shown below, is provided to make it easier to choose bolt properties based on laboratory data.
See it here: Bolt Calibration Tool
The tool provides:
Interactive controls
Default properties for different bolt types (e.g., rebar, split set, Swellex, and cables)
Force/displacement data import
3DEC command generator
Save/load parameters
Documentation